IRCC released news of the Canada Express Entry Draw held today, July 20, 2022 for Federal Skilled Worker (FSW), Federal Skilled Trades (FST), and Canadian Experience Class (CEC) programs. Find highlights of the CIC July 20, 2022 Invitation to Apply (ITA) draws below.
Canada Express Entry Draw July 20: Official Highlights.
Draws were made for only three immigration programs: FSW, FST, and CEC.
IRCC invited only 1,750 candidates in this draw, still a low number compared to what ITAs used to be like.
A CRS cut-off point of 542 was used. The July 20 CRS score is 5 points lower than the previous draw conducted on July 6, which invited 1,500 eligible applicants.
Usually, it takes about 24hrs from the time invitation draws are announced to receive ITA email from Immigration, Refugees, and Citizenship Canada (IRCC). If you are yet to get an email, please be patient and check your express entry account within another 24hrs.
Why is the Number of ITAs Low in Express Entry?
Recall that IRCC historically issued a higher number of invitations before the pandemic. In fact, draws are made with between 3,000 to 5000 ITAs.
The invitations for July 6th and that of today, July 20th are by far less than the historic numbers for the following possible reasons stated below:
The immigration body is working on backlog of applications generated since during the pandemic.
Reduction of the target for express entry invitation for foreign-trained professionals. IRCC at some point prioritized invitations for immigrants that are present in Canada.
Some people also speculate that the reduced number of ITAs issued are as a result of IRCC shifting priority to newer immigration programs.
Who is in the Express Entry Pool?
As of July 18, 2022, Canada has a total of 239,631 candidates in the Express Entry Pool. The graph below shows the distribution of profiles of applicants that are active in the pool prior to today's draw.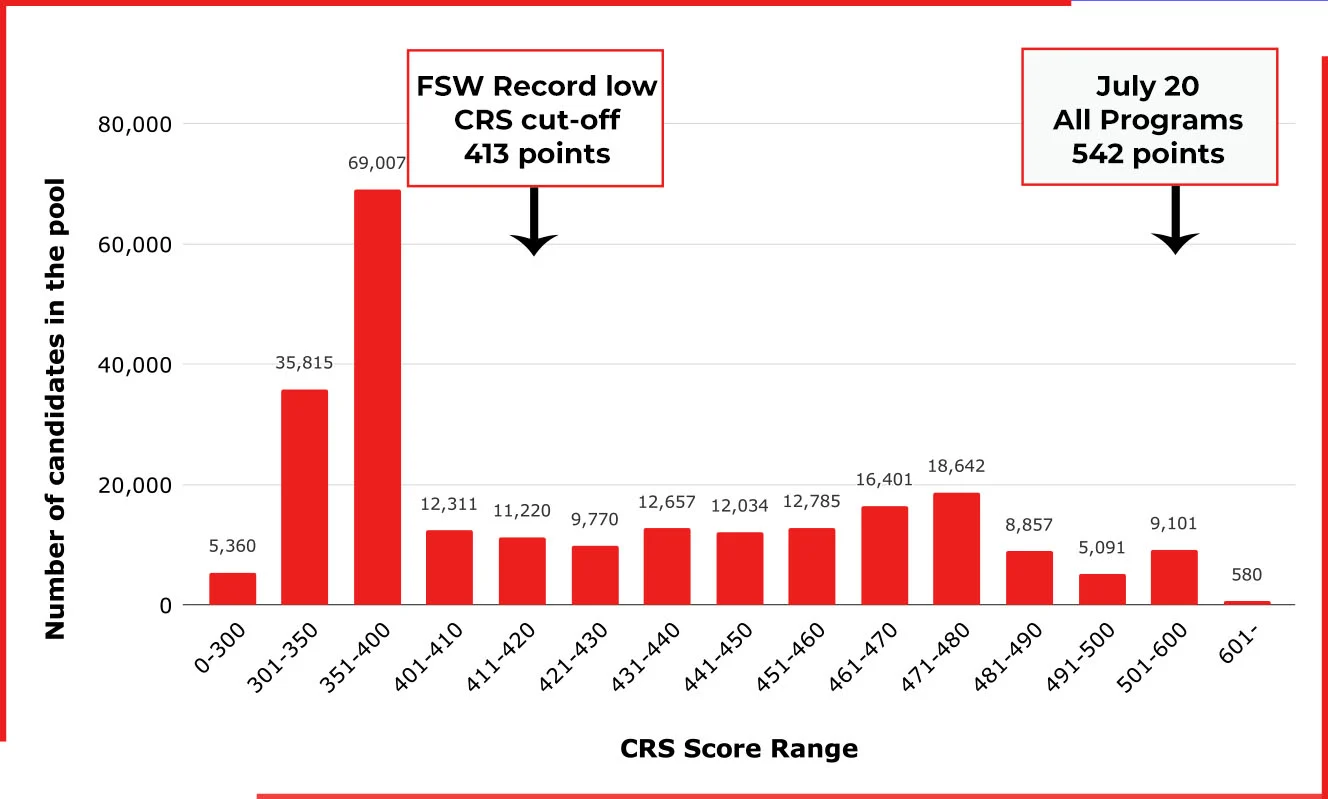 It is possible to improve your CRS score. One such possibility is by getting a higher score in Languages Test exams. Read our latest IELTS score bumper guide here.
---
Government of Canada invited 1,750 Express Entry candidates to apply for Permanent Residence (PR) on July 20, 2022. This invitation is the 227th draw since inception of the EE program in 2015. A minimum cut-off mark of 542 was used, and this invitation was for Provincial Nominee Program (PNP) candidates only. Continue reading for details, statistics and pool rankings.
Twice a month, the Immigration Refugees and Citizenship Canada (IRCC) invite eligible candidates to apply for permanent residency. These invitations are most often referred to as Express Entry Draws. This page focuses on latest express entry draws, historical invitations, composition of the pool and other key information.
Canada Express Entry draw pool was introduced in 2015 for foreign workers who want to live and work in Canada permanently. This program is organized in three ways:
Rounds of Invitations
All rounds of invitation in Canada permanent residency policies are based on criteria set out in the Comprehensive Ranking System, some of which includes:-
Candidate's age at the time profile was created.
Candidates level of education.
Candidates previous work experience.
Candidates language skills (English and French).
Whether or not the candidate has a job offer, in Canada.
Perceived adaptability to live in Canada.
Candidates that meet the requirements for any of these programs can apply for permanent residency in Canada through the program qualified for.
Candidate that want to be considered for Canada express entry draw  must, first of all, create an Express Entry profile in order to enter the pool of candidates for subsequent draws.
Also, all Canada Express Entry draw profiles are ranked against one another. This is achieved through the Comprehensive Ranking System (CRS). The candidates with the highest scores will qualify for the next pool.
---
What to do if you're not invited to apply?
Your express entry profile will expire automatically if you don't get an invitation to apply after 12 months. So, you must be called for the Canada express entry draw if you qualify after 12 months. You can see this date in your account.
The IRCC will remove the account once it expires. After removing the account they will send you a message to remind you.
However, you can create a new Canada express entry draw account. Also if your profile is about to expire, you can print out screenshots of your profile to make it easier to re-enter your data.
When Is the Next Express Entry Draw Date?
Normally, a Canada express entry occurs every two weeks on a Wednesday. However, there are situations where a PNP draw will occur on a Wednesday. In such cases, the Canada express entry draw will take place the following day being Thursday.
What is Federal express entry?
The Federal express entry is the Canadian government immigration program that targets special candidates for Canadian permanent residence. The programs include:
Canada Experience Class.
Federal Skilled Worker program.
Federal Skilled Trades Program.